Canceling Your ProTasker Account
WHAT!!! Why would you want to leave us?
Ok… we know that ProTasker might not be for everyone, however we know it helps many stay organized with projects, goals or even processes within a small company. Before you make the decision to cancel, please try the software for the full 60 days. You will not be charged until day 61. Once you start using it, we're pretty sure you'll love it.
If you decide that you want to cancel, please visit the EDIT SETTINGS link on the top of your browser towards the right hand side. Once you are here, you'll notice the menu located on the left side. Click CANCEL ACCOUNT towards the bottom. See image below: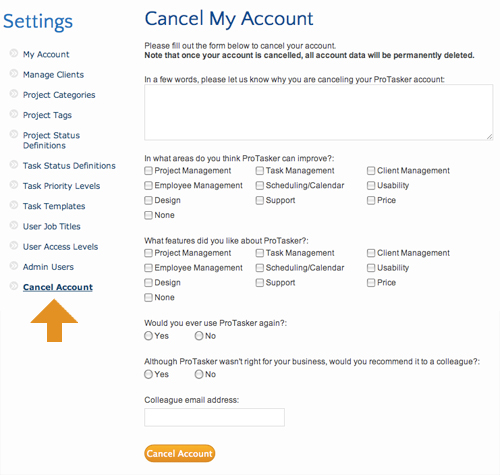 We're constantly looking to improve the software, so please fill out all the fields on the form so we can use that information to better ProTasker. PLEASE NOTE: Once you cancel the account, all of your data will be erased from ProTasker. We do not save or backup any cancelled accounts.